Safety
Peace of mind is what makes luxury possible.
To deliver the best or nothing, safety must come first. It´s why Mercedes-Benz engineers devote every minute of their time to a moment they hope never happens. From the invention of the crumple zone to countless innovations in occupant protection and accident avoidance, the safety firsts of Mercedes-Benz have set standards that all other automobiles follow.
Today, the breakthroughs continue, with each new Mercedes-Benz designed to make an accident less severe, less damaging, and even less likely. With an abundance of safety innovations offered as standard features, our vehicles are engineered to protect you in ways you might never have imagined. And with the hope you´ll never have to.

PRESAFE®
A vision of the immediate future: Preparing for an accident before it happens.
The exclusive PRESAFE® system can sense that a collision might be imminent, and help prepare for it in the precious moments beforehand. Using a network of sensors (many of them already serving other safety systems in the vehicle), PRESAFE® can detect certain conditions that suggest an accident is about to occur, such as extreme skidding. It then tightens the front seat belts, adjusts the front head restraints and passenger seat, and can close the windows and sunroof, all to better prepare the occupants for more effective results from the restraint systems.
And PRESAFE® doesn´t just optimize the safety systems of your vehicle, it optimizes yours too: The PRESAFE® Sound feature in select, newer vehicles initiates a harmless noise specifically tuned to trigger a reflex in the inner ear that can help to protect it from the pressures of a loud crash.
Active Distance Assist DISTRONIC®
Keeping a safe distance: cruise control that watches the traffic ahead.
Maintaining the right space between vehicles is critical to safety, and is particularly helpful when cruise control is engaged. When Active Distance Assist DISTRONIC® is enabled, your Mercedes-Benz keeps a selectable set of car lengths between itself and the car in front of it. As traffic slows or stops, your vehicle will slow down as well — even if that means coming to complete stop. Working with features like Active Steering Assist (which helps keep your Mercedes-Benz in its lane) and Active Speed Limit Assist (which monitors road signs to help keep the vehicle within the legal limit), it´s pure ingenuity in the service of safety — yours and that of other drivers too.
ATTENTION ASSIST®
Keeping an eye on you: Early warning for driver drowsiness.
Even in the most exciting vehicle, a long journey can bring about driver fatigue. An industry first, ATTENTION ASSIST® takes note of over 70 parameters in the first minutes of a drive to get to know your unique driving style. As your journey continues, it can detect certain steering corrections that suggest the onset of drowsiness. It then considers a wide array of other factors, from crosswinds and road smoothness to how often you're interacting with the vehicle's controls and switches. If it all adds up to driver fatigue, ATTENTION ASSIST® sounds an alert encouraging you to stop for a rest.
Active Blind Spot Assist and Active Lane Keeping Assist
Always by your side: Added safety for multi-lane highways.
Danger can come from any direction. Blind Spot Assist goes a step beyond your side mirrors. When radar sensors in the rear bumper detect that a vehicle is alongside yours, a red icon lights up in the side mirror to let you know. If you signal for a lane change, an alert sounds. With Lane Keeping Assist, a special camera watches the markings on the pavement as you drive. If it senses that you're drifting out of your lane, it vibrates the steering wheel. And with either system, advanced active technology can apply the brakes on one side of the vehicle, to help guide you back into your own lane.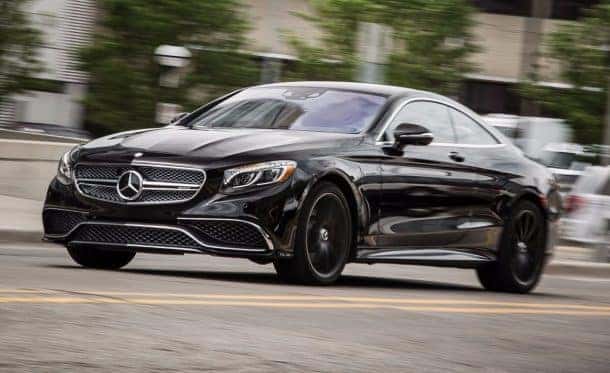 Adaptive Braking Technology
Prepared to stop: Brakes that adapt to the road.
Comprised of four separate features, adaptive braking technology makes it easier for your Mercedes-Benz to stop and to remain at a standstill. Predictive Brake Priming senses when a driver´s foot lifts off the accelerator suddenly, and moves the brake pads closer to the wheels in preparation for a quick stop. When you´re driving in the rain, Automatic Brake Drying applies just enough brake pressure to sweep built-up water from the discs. If you´re stopped on an incline, Hill-Start Assist helps keep the car from rolling back when you lift your foot off the brakes. And the brake HOLD feature allows you to take your foot off the brakes when sitting at a long light or in stopped traffic, after a firm extra push on the brakes.
Accident Investigation
Collecting the information that fuels innovation.
At Mercedes-Benz, we know from experience that just a few pieces of data could someday mean the difference between a collision and just another close call. And that's exactly why we created the Mercedes-Benz Accident Investigation team, a special unit in Stuttgart dedicated to gathering and evaluating information that has the potential to save lives across the world.
From calculating impact speed to collision angles, the exhaustive data collected at the scene by the Accident Investigation team not only continues to inform our ongoing improvement of existing safety features, but also has led to the development of groundbreaking Mercedes-Benz technology such as ATTENTION ASSIST® and DISTRONIC® PLUS with PRESAFE® Brake. The fact is, the more we know about what happened, the better chance we have of inventing a way to help keep it from happening again. It's just one of the ways we're working in Germany to engineer a safer future for all drivers worldwide.
Search By Keyword
Search By Filters
SAVED VEHICLES
You don't have any saved vehicles!
Look for this link on your favorites:
Once you've saved some vehicles, you can view them here at any time.
Choose How To Share:
Today's Hours:
Open Today!Sales: 9am-7pm
[schema type="organization" orgtype="LocalBusiness" url="www.mbobr.com" name="Mercedes-Benz of Baton Rouge" description="" street="10949 Airline Hwy" city="Baton Rouge" state="LA" postalcode="70816″ country="United States" email="gwenw@mbobr.com" phone="(225) 424-2241″ logo="https://di-uploads-development.s3.amazonaws.com/mercedesbenzofbatonrouge/uploads/2017/03/MB-of-Baton-Rouge-OG.jpg"]
Mercedes-Benz of Baton Rouge
Mercedes-Benz of Baton Rouge
Baton Rouge
,
LA
,
United States
https://di-uploads-development.s3.amazonaws.com/mercedesbenzofbatonrouge/uploads/2017/03/MB-of-Baton-Rouge-OG.jpg
Mercedes-Benz of Baton Rouge 30.405598, -91.0586837.